Data and Tools
The All of Us Research Hub includes powerful data and analysis tools to help researchers with their work. As the program grows, more data types and tools will be available for researchers.
Data Browser
The Data Browser provides interactive views of the publicly available All of Us Research Program aggregate-level participant data, including EHR domains, survey responses, and physical measurements.
Data Snapshots
The Data Snapshots include data visualizations showing the participant cohort size and attributes, including how many participants are from groups underrepresented in biomedical research.
DATA ACCESS AND USE POLICIES
Our data use policies and tiered data access support our commitment to to data security and participant privacy.
DATA SOURCES
Participant data available for research include information from electronic health records, physical measurements, biosamples, survey responses, and wearables data. We will add new participant data sources as the program grows.
DATA METHODOLOGIES
Participant data have been harmonized and curated to protect participant privacy. We ensure high-quality data for research by standardization methods.
Data counts may differ between Research Hub tools and data views. This is because we use different data curation methods for each tool to protect participant privacy.
RESEARCHER WORKBENCH
The Researcher Workbench provides tools to enable powerful analysis of Registered Tier data. Registered researchers can conduct multiple research projects simultaneously and collaborate within and across teams.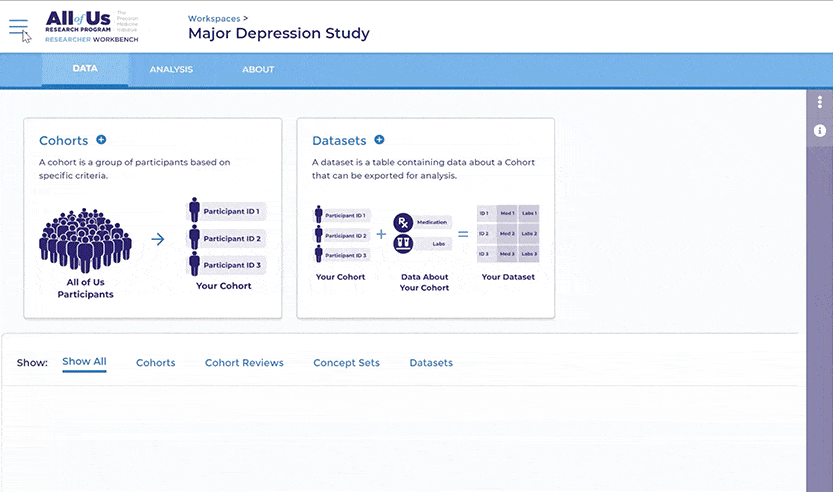 SURVEY EXPLORER
This tool provides source information for the surveys that All of Us asks participants to complete, including each individual question. Aggregate responses to the surveys are available in the Data Browser.